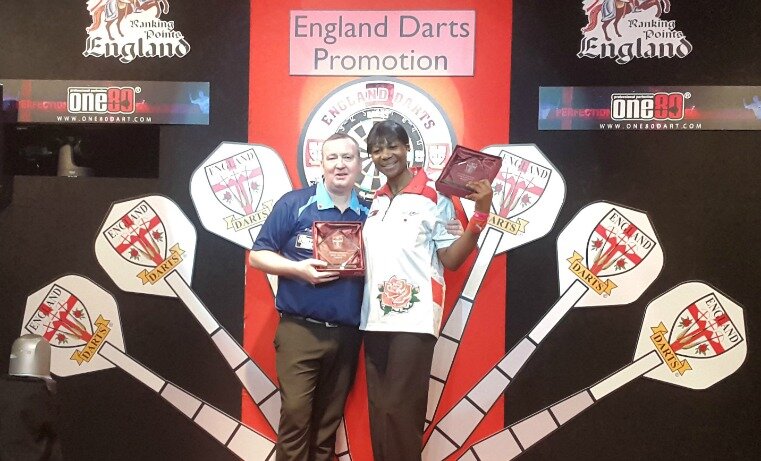 More live international darts from the England Open on Front Runner this weekend
England Darts Organisation's flagship international event the England Open is being televised LIVE on Front Runner this weekend – with some of the world's best players competing for the coveted titles.
The English National Championships and the 10th England Open will be broadcast live on Saturday (June 17) and Sunday (June 18) to 19 million homes across the UK and Northern Ireland on SKY ch469, Freesat ch250, Freeview ch91, Talk Talk/ BT ch91.
On Saturday, Front Runner will air the National Singles Men's and Ladies Finals from 4.30pm, and the main show will start on Sunday at 3pm with six hours of darts from The Men's, Ladies and Youth stage finals.
Filming will take place at the Bunn Leisure Holiday Centre in Selsey, near Bognor Regis, in West Sussex – a venue which has become famous through hosting this popular annual event.
Players competing in the men's categories include:-
World Champion Glen "Duzza" Durrant,

who will return to defend the titles he won last year;

Northumberland's Gary "Big Robbo" Robson,

who will mark his 50th birthday attempting to retain his National Singles Title from last year and also win his second open title following his previous victory in 2011;

Wesley "Sparky" Harms

who leads the Dutch invasion of players and will be bidding for his fourth title as the most successful player in the history of the event; and

Scotland's Ross "The Boss" Montgomery

who leads the invasion from the north in a bid to win his second title.
Players lined up for the women's categories are:-
Deta "The Dark Destroyer" Hedman,

who bids to retain both her Open and National Singles Titles from last year;

Anastasia "From Russia with Love" Dobromyslova,

Russia's former three-times world champion;

Trina "Golden Girl" Gulliver MBE

, 10 times world champion; and

Lisa "The Lancashire Rose" Ashton

, who is the current world champion and is attempting to win her first England Open title.
In the youth categories, Owen Maiden from the West Midlands and Yorkshire's Beau Greaves will attempt to defend their previous titles.
Tommy Thompson, Chairman of the England Darts Organisation, said: "The England Darts Organisation is thrilled that Front Runner is transmitting our flagship event which celebrates its 10th anniversary this weekend."
He added: "We hope this strengthens our current and future collaboration with the channel, which also broadcast The Isle of Man Open and British Internationals live from their respective venues earlier this year."
Ross Ravago, from Front Runner, said: "We're really pleased to be offering another weekend of live international darts on Front Runner. Be sure to tune in from 4.30pm on Saturday and 3pm on Sunday for all the action at the the English National Championships and England Open."
Schedule of matches and times can be found on www.englanddarts.co.uk.
See listings for further information. Front Runner is available on SKY ch469, Freesat ch250, Freeview ch91, Talk Talk/ BT ch91.