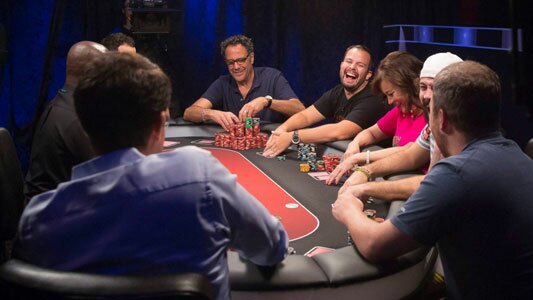 Popular U.S. poker show to debut on Front Runner
Poker Night in America is to make its UK television debut on the brand new sports channel Front Runner.
As well as following the game around the table, the series emphasises the fun and banter that unfolds between the players, many of whom are poker pros and/or celebrities.
Some of the big names include Mike Matusow (aka The Mouth), Phil Laak (aka The Unabomber) and Will Failla (aka The Thrill). All will be playing "cash games", using real chips and there's real money at stake.
Each episode is set in a different location, starting at Turning Stone Casino in Verona New York – one of best casinos in the United States.
Poker Night in America will be aired on Thursday nights, starting November 17 at 9pm on Freeview channel 91.
Ryan Scarratt, of Front Runner, said: "Poker Night in America has never aired in the UK before, so we're really excited to be offering this show exclusively and for free to our viewers.
"Poker shows have been really popular since the channel launched last month and this series offers a fresh perspective of the game with some of the most talented names in the business."
Todd Anderson, Poker Night in America, said: "We are very excited to partner with Front Runner to bring a different type of poker show to the U.K.
"At Poker Night in America we strive to attract interesting players to our games by embracing the fun side of poker. No headphones or hoodies allowed!"
Front Runner launched in October 2016, and airs free sports featuring skateboarding, snowboarding, water sports, motocross and professional fighting.
Live sports are coming soon.
Note
Follow Front Runner on Facebook, Twitter and Instagram.
For more information visit the Front Runner website.