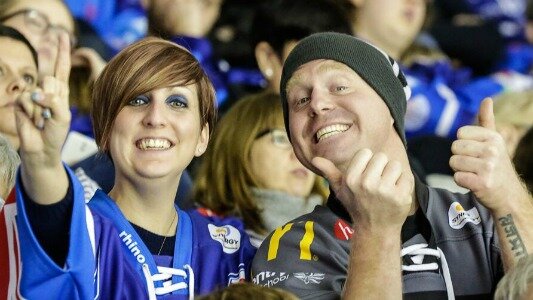 So EIHL ice hockey fans… Here's what the Fan League is all about…
So, What's all this then?
Front Runner are challenging the EIHL Ice Hockey clubs' fans to find out which club has the most engaged following on Twitter!
How will it work?
With the Fan League, each EIHL team will be pitted against another over nine matchdays, starting 2nd February. Each Thursday afternoon at around 4pm, ahead of the weekly EIHL highlights show FACING OFF, a two hour poll will take place on the @FrontRunnerTV Twitter feed, with five matches ran using Twitter polls, each pitting one team against another.
Fans of the teams can then vote for their team, adding to the poll and seeing the results come in, and see which team beat the other in that match before settling down to watch the real Ice Hockey teams FACING OFF.
The day after each matchday, the Fan League will be updated, showing the scores to date and league positions. Over the weeks the league will show who is consistently beating other teams, and which teams have not had much luck, and as the 2016/17 EIHL season reaches a climax so will the Fan League, with the final fan league matchday being on Thursday 30th March.
How does the scoring work?
In EIHL Ice Hockey, the two teams can score either 2, 1 or zero points. It will be the same for the fan league!
Getting over 50% of the votes means a win and 2 points for your team. Getting between 40% – 49.99% means it's a close one, and so although that team lost the poll they'll still receive 1 point, much like an Overtime Loss in the EIHL.
Getting below 40% unfortunately means no points for that team this time, but with another matchday just seven days away there's another chance to gain points coming soon!
After nine matchdays, each team will have met each other once, and as there are no home and away ties needed online, the league will be complete!
Can I tell my friends and fellow fans to vote?
YES! Get everyone you can to vote for your team, get your team to share it via their Twitter page too! Even if your team might not win, remember keeping it a close race and getting at least 40% of the vote can earn a crucial point in the fan league! Even if you're sure your team might win – do not get complacent, it's easy to underestimate the underdogs!
Who plays whom, and when?
If you're super passionate you'll vote in every poll for your team, and if you dislike one team in particular, you may even want to vote against them in their polls! To see who plays who and when, the matchdays will be as follows – and remember the polls will run for 2 hours from around 4pm on Thursdays, just before FACING OFF starts on Front Runner:
Matchday one Thursday 2nd Feb
Braehead Clan v Fife Flyers
Nottingham Panthers v Dundee Stars
Coventry Blaze v Sheffield Steelers
Belfast Giants v Cardiff Devils
Edinburgh Capitals v Manchester Storm
Matchday two Thursday 9th Feb
Dundee stars v Cardiff Devils
Braehead Clan v Sheffield Steelers
Fife Flyers v Nottingham Panthers
Coventry Blaze v Edinburgh Capitals
Belfast Giants v Manchester Storm
Matchday three Thursday 16th Feb
Nottingham Panthers v Braehead Clan
Fife Flyers v Cardiff Devils
Belfast Giants v Coventry Blaze
Manchester Storm v Dundee Stars
Sheffield Steelers v Edinburgh Capitals
Matchday four Thursday 23rd Feb
Manchester Storm v Fife Flyers
Sheffield Steelers v Nottingham Panthers
Cardiff Devils v Braehead Clan
Belfast Giants v Edinburgh Capitals
Coventry Blaze v Dundee Stars
Matchday five Thursday 2nd Mar
Sheffield Steelers v Belfast Giants
Edinburgh Capitals v Dundee Stars
Fife Flyers v Coventry Blaze
Manchester Storm v Braehead Clan
Nottingham Panthers v Cardiff Devils
Matchday six Thursday 9th Mar
Coventry Blaze v Braehead Clan
Belfast Giants v Dundee Stars
Cardiff Devils v Sheffield Steelers
Manchester Storm v Nottingham Panthers
Edinburgh Capitals v Fife Flyers
Matchday seven Thursday 16th Mar
Braehead Clan v Edinburgh Capitals
Belfast Giants v Fife Flyers
Nottingham Panthers v Coventry Blaze
Cardiff Devils v Manchester Storm
Sheffield Steelers v Dundee Stars
Matchday eight Thursday 23rd Mar
Dundee Stars v Fife Flyers
Sheffield Steelers v Manchester Storm
Nottingham Panthers v Edinburgh Capitals
Belfast Giants v Braehead Clan
Coventry Blaze v Cardiff Devils
Matchday nine Thursday 30th Mar
Cardiff Devils v Edinburgh Capitals
Nottingham Panthers v Belfast Giants
Manchester Storm v Coventry Blaze
Sheffield Steelers v Fife Flyers
Dundee Stars v Braehead Clan
Will the winning team win a prize?
Not a physical prize, just that well-earned sense of pride from knowing your fans are the ones who had more impact than any other team. So enjoy playing, and whether your team is aiming for the number one spot, or not finishing last, or even just staying ahead of or catching up with a local rival, make sure you vote!
How do I fill in the poll?
Just visit https://twitter.com/frontrunnertv whilst a poll is on (from 4pm til 6pm on Thursdays) and find the matches you want to vote in, then click the team you want to win. It couldn't be simpler!
Who will be the 2017 winner of the Fan League?
There's only one way to find out, see you on Twitter each Thursday!