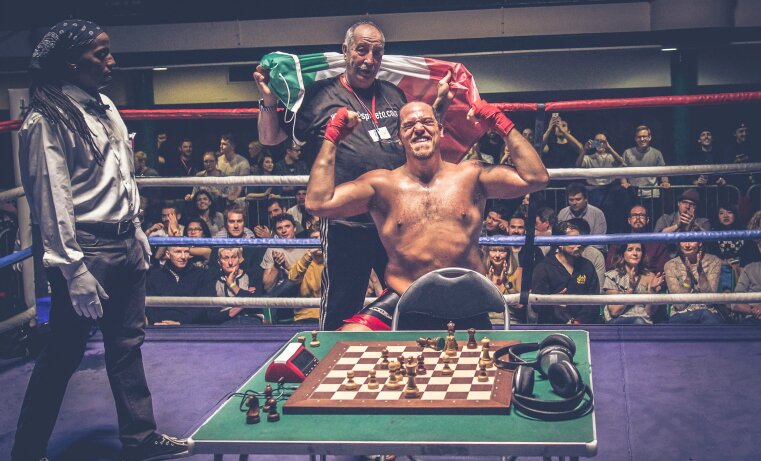 So what's chessboxing about?
Ever seen chessboxing? Or know what it is? Well now's your chance to brush up on your knowledge.
This month we're introducing the sport to Front Runner with a bout between two bankers, held at the Royal Albert Hall in London.
In essence, this hybrid fighting sport combines two traditional British sports – boxing and chess. Competitors take rounds of chess mixed with rounds of boxing until a winner is declared, either via knockout or checkmate.
And the former undefeated IBF World Champion Terry Marsh is among the sport's more well-known competitors.
This sport may have started out as 'performance art'…
The engaging "brains and brawn" combat sport was invented by Dutch artist Iepe Rubingh, who is initially thought to want to develop it as performance art. It was later developed into a fully-fledged sport.
Rubingh decided to create the sport based on French artist Enki Bilal's comic book, The Nikopol Trilogy, in 1992, which features a similar chessboxing world championship.
The difference being that the comic book competitors conduct an entire boxing match – before trying their hand at chess.
These are the rules…
Fiction aside, in reality chessboxing has alternate rounds of chess and boxing and follows a very detailed set of rules.
In total there are 11 rounds, six of which are chess and the remaining five are boxing – match proceedings begin with chess.
Each round lasts three minutes and there are approximately 18 minutes of chess played during each match, which equates to nine minutes for each chessboxer.
After each round of chess, the board is digitally recorded to ensure play can resume in the next round of chess. It also means there's no way the board can be tampered with during the intervening round of boxing.
Competitors are allowed a one minute break when switching between chess and boxing in order for the opponents to prepare for the next round.
Chessboxing on Front Runner – and the upcoming Brexit bout…
Front Runner will show a London Chessboxing match held at the Royal Albert Hall between bankers Bryan Woon and Sean Mooney.
Since this event took place in 2013, the sport has grown rapidly in popularity within the UK as well as Germany, India and Russia.
Top upcoming fights include a politics special as UKIP MEP Jonathan Arnott will face off with Liberal Democrat activist Toby White in April.
Who wins?
In order for a winner to be declared in regulation time, the competitor can claim victory by the following: knocking his opponent out, by checkmate, their opponent resigns, their opponent is disqualified by the referee or their opponent exceeds the time limit during the rounds of chess.
However, if neither chessboxer manages to claim victory during regulation time and the chess is a draw, the winner will be decided on which competitor has the most points from the boxing rounds.
In the unlikely event that the boxing scores are level, then the chessboxer who used the black chess pieces will be announced the victor.
Repeats of International Chessboxing are being shown throughout March. This week, the match will be aired on Wednesday (March 8) at 11pm, Saturday (March 11) at 7pm, Sunday (March 12) at 10am.