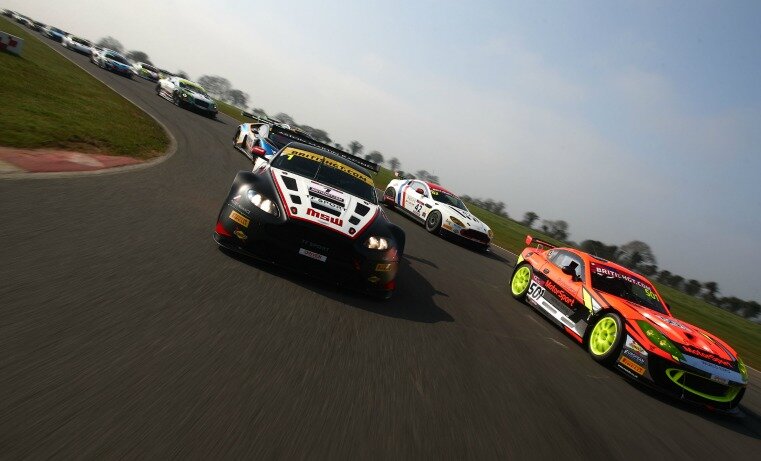 More live motorsport is just around the corner…
We're just a few days away from the start of the 2017 British GT Championship – and all the action is being aired live on Front Runner this Easter Monday. So we've asked Andy Lloyd, editor of enduranceandgt.co.uk, to tell us what to expect during the championship's 25th anniversary season.
The 2017 British GT Championship – sports car racing at its finest!
The British GT Championship is back for 2017 with the season-opening rounds taking place at Oulton Park this weekend. After the excitement of the Media Day at Snetterton last month, where teams had a chance to display new cars, liveries and drivers, the talking stops and racing begins in what is widely regarded as one of the world's most competitive national GT championships.
With six manufacturers represented on the GT3 grid, 2017 could be one of the most closely-contested seasons in years.
Who's going to be there?…

Aston Martin will be represented by three V12 Vantage GT3s, two entered by TF Sport and one by Macmillan AMR. TF Sport has enjoyed great success with the Gaydon-based marque and 2016 champions Derek Johnston and Jonny Adam will be fighting to make in two-in-a-row for the Surrey-based team. Factory driver Adam is under no illusion that 2017 will be easy but he and Johnston have worked hard over the winter to get the consistency throughout the season they lacked in 2016.
Don't forget the second TF Sport entry though. Mark Farmer and Jon Barnes, in the #11 car, tasted victory in Belgium last season and they will be looking to build on that success in 2017.
Macmillan AMR is moving up to the premier class this season with its Aston Martin Vantage GT3 and has given Jack Mitchell, driving alongside James Littlejohn, the opportunity to take a step up the ladder. Mitchell impressed in the team's GT4 entry last season and will be looking to make his mark in GT3 this year
The #33 Barwell Motorsport Lamborghini Huracán GT3 driven by Jon Minshaw and Phil Keen narrowly missed out on the GT3 drivers title in 2016, after going into the final round with a points advantage. Minshaw and Keen are now in their fifth season together and will be determined not to let any opportunities slip through their fingers. Expect to see them on the podium regularly throughout the season.
Adding further excitement to the Lamborghini presence will be the second Barwell Motorsport entry which partners experienced amateur sports car driver Liam Griffin with ex-BTCC regular Sam Tordoff. Tordoff made the switch to GTs after a highly successful career in Touring Cars, culminating in finishing second in the championship last season. With his sprint racing experience, Tordoff will expect to be scrapping up at the front and collecting race wins. The #6 Barwell Motorsport Lamborghini will definitely be one to watch this year.
If you want glamour and 'Big Car' excitement then look no further than Team Parker Racing and its pair of Bentley Continental GT3s. The Bentley made its British GT debut in 2016 in the hands of Rick Parfitt Jnr and Seb Morris. The 'Rock Star' driving partnership immediately made its mark by taking pole position for the opening round at Brands Hatch and went on to take five podiums and a win at Oulton Park. With a years' experience together, they will approach 2017 with the intention that nothing less than the championship title will do.
Team Parker Racing's second Bentley Continental GT3 entry also has the quick, experienced driving line-up of Ian Loggie and Callum Macleod. The pair made two appearances in British GT last year and know the Bentley well.
Ferrari returns for a full season in the championship with the F488 GT3 entered by AF Corse / Spirit of Race and driven by Duncan Cameron and Matt Griffin, both of whom have unfinished business in British GT. The F488 GT3 has already proved to be highly competitive internationally. Expect some surprises for the Prancing Horse.
Century Motorsport is taking the step up into the top tier in 2017 with two Ginetta G55 GT3s. Nathan Freke will be joined in the #19 by the young American Harry Gottsacker, who drove in the Pirelli World Challenge in 2016.
Parker Chase, the team's second youthful American driver and PWC Rookie of the Year in 2016, also joins the team alongside Ginetta factory driver Charlie Robertson. Robertson and the confident Chase could form a formidable driving partnership this season.
Adding excitement to the GT3 grid will be a pair of Mercedes-AMG GT3s. Team ABBA with Rollcentre Racing has swapped its BMW Z4 GT3 for the latest Mercedes offering and returns with Martin Short and Richard Neary, both highly experienced amateur drivers. AmDTuning.com has also switched to the Mercedes this year. The Mercedes-AMG GT3 will be fast and reliable. Will it be a championship contender? We shall see.
So that's the GT3 class covered – what about GT4?

The GT4 class sees 20 entries from seven different manufacturers. Seven examples of the 2016 class-winning Ginetta G55 GT4 will be on the grid this year, including the return of current champions Graham Johnson and Mike Robinson in the PMW Expo Racing / Optimum Motorsport entry. Current Teams' champions Autoaid/RCIB Insurance Racing returns with a pair of Ginetta G55 GT4s as does Century Motorsport. Lanan Racing and HHC Motorsport have entered one Ginetta apiece.
2016 champions Johnston and Robinson are determined to defend their GT4 title but admit that the Ginetta G55 GT4 may have some tough competition from the 'New Kid on the Block', the McLaren 570S GT4.
Six examples of McLaren's latest GT machine will be on the grid for the new season and all eyes will be on the #100 Black Bull Garage 59 570S GT4, one of two entered by the team, and driven by Sandy Mitchell and Ciaran Haggerty. The pair won twice in the final three rounds of 2016 and must be considered as favourites to take the fight to the PMW Expo Racing / Optimum Motorsport crew.
In2Racing has also entered a pair of McLaren 570Ss and Tolman Motorsport and track-club are also hoping that the 570S will be the car to have in GT4 in 2017.
Nissan joins the GT4 field with a pair of 370Zs, entered by UltraTek Racing / Team RJN. Richard Taffinder, Martin Plowman and Tim Eakin will be joined by Emmerdale actor-turned racing driver Kelvin Fletcher to complete its driving line-up.
Only two Aston Martin V8 Vantages join the GT4 grid this year. Along with its GT3 programme, Macmillan Racing returns to the GT4 class with William Phillips and Jan Jonck sharing the driving duties. Academy Motorsport also fields its V8 Vantage GT4.
Additional variety to the field is added in the form of the popular Ebor GT Maserati GT MC GT4, this year driven by Matthew Graham and 2015 Ginetta GT5 Challenge champion James Kellet. The GPRM Toyota GT86 and the Team Parker Racing-run Porsche Cayman GT4 Clubsport MR will also add additional colour to the grid, the Porsche returning after a frustrating debut season in 2016.
With mouth-watering grids in both classes this year, following the 2017 British GT Championship on Front Runner will be a must for any UK-based motorsport enthusiast.
Live coverage of the 2017 British GT Championship and MINI Challenge starts Easter Monday (April 17) at 10.45am-2pm and 3pm-5.15pm.
See Front Runner's exclusive interviews with drivers Jonny Adam, Graham Johnson, Joe Osborne and Sam Tordoff.