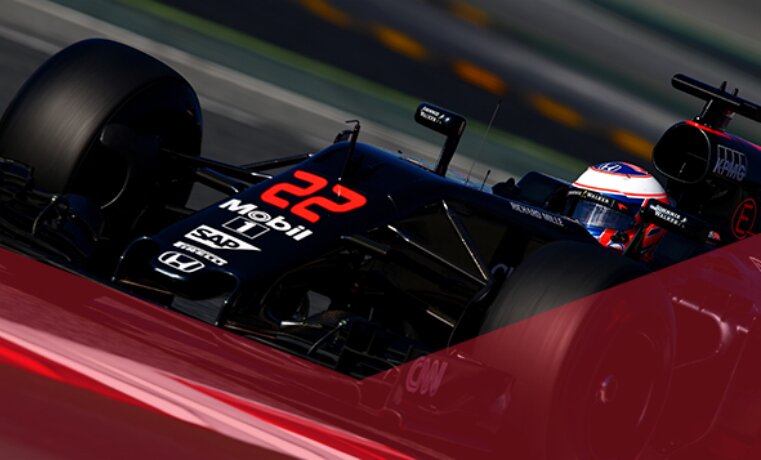 Motorsport fans are in for a treat this March
New shows on Front Runner include the very best two and four-wheeled action from around the globe.
From motorcycles and cars to rallies and drag racing – this is a truly exceptional month for motor racing just as the motorsport season gets going.
Here's the latest shows coming to the UK's only free sports channel.
Mobil 1 The Grid. Fortnightly on Saturdays at 10am. Repeated Monday 6.30pm.
An international magazine show that covers every aspect from the motorsport world from Formula 1 to the Daytona 500 to NASCAR, along with countless others. Mobil 1 the Grid delivers the most comprehensive coverage of four-wheel racing on television. It has news and discussions about Formula 1, NASCAR, the Daytona 500 and many more.
With features on some of motorsport's biggest stars including one of Formula 1's most popular drivers Red Bull Racing's Daniel Ricciardo, you will not want to miss a second of this pulsating action.
P1 Superstock UK. Sundays at 8pm. Repeated throughout the week including Saturdays at 4pm.
Join an audience of over 650 million Superstock fans who tune into every episode as this jam-packed show bring you the highlights from the P1 Superstock Championship races happening both here in the UK and the United States.
This highlights programme will bring you the best action from Britain's premiere powerboat racing series at venues throughout the beautiful English countryside such as Scarborough and Yorkshire.
The Superstock races courses are tight, fast and close to the shore, with the local crowd creating a terrific atmosphere. With three races held over the weekends lasting approximately 20 minutes each.
New episodes of Bike World. Fortnightly on Mondays at 7pm. Repeated Saturdays at 9pm.
Europe's most popular motorbike entertainment show is airing on Front Runner for all you two-wheeled fanatics. Join the team as they take you on a magical journey throughout Europe, bringing you exclusive stories ahead of anyone else.
This fortnightly show will bring you the latest news, showcase the latest and greatest bikes from beautiful locations and bring you in-depth features from the world of motorcycling. If it's on two wheels, it's on Bike World.
NZ Toyota 86 Championship and NZ Toyota Series. Wednesdays at 5pm and 6pm. Repeated Fridays 8pm and 9pm (Freeview).
The fourth season of the New Zealand Toyota 86 Championship looks set to be one of the tightest competitions in its history as the country's leading one-make series has its strongest field of drivers yet.
This intense championship will include some of motorsport's biggest names from New Zealand as racers will test their abilities in six rounds.
Competitors race in identical Toyota 86 cars, something that a lot of motorsport fans actively encourage rather than one having the upper hand thanks to a faster car.
Meanwhile the 2017 Toyota Racing Series will see drivers compete in Toyota FT50 races cars in five races over five weekends. With the opening round starting in Ruapuna, New Zealand.
Road Racing Series. Sundays at 7pm (Freeview). Repeated Tuesdays at 6pm.>
Mass starts and speeds often exceeding 200mph makes road racing one of the most exciting and talked about motorsports on television.
Footage taken from the on-bike cameras puts viewers in the heart of the action while shots from the helicopter coverage helps give an overview of the event.
The show covers the very best of the sport from events in the UK, Europe and Asia.
Irish Tarmac Rally Championship. Saturdays at 10pm (Freeview). Repeated on Sunday 6pm (Freeview).
The Irish Tarmac rally Championship will bring you all of the action from the 2017 edition of Ireland's premier rallying series, which will have you clinging to the edge of your seats. The competition is made up of events on closed tarmac roads and was first introduced in 1978.
Drivers will compete on roads in all weathers including the muddiest conditions that you can imagine.
Sucker Punch. Starts Sunday March 12th at 8pm (Freeview). Then repeated throughout March.
A real test of skill versus endurance, as motorcyclists compete on terrain ranging from open mountain to forests to quarries. With only the top 15 racers earning championship points, riders slog it out to see who can endure one of the UK's hardest race courses.
This premier motorcycle endurance race pushes man and machine to the limit. This extreme off road event is run by WOR.
Irish National Forest Championship. Saturday March 11th at 10pm. Repeated throughout the month, starting Monday from the 13th at 7.30pm.
The Irish Forest Rally Championship show features highlights from the action-packed seven rounds of this exciting competition that focuses on rally cars for WRC machinery downwards.
This year's rallies are: Carrick on Suir Forest, Sean Conlon Tipperary Forest, Moonraker Forest, Donegal Forest, Jim Walsh Cork Forest, Enniskillen Lakeland Stages and Rathfriland MC Down Forest.
UK Top Sportsman Drag Racing. Saturday 18th March at midday. Repeated throughout March, starting Sunday 19th March at 6pm (Freeview).
This high octane event is filmed at the Mopar Euro Nationals and features some of the UK's best racers, as they compete in two separate eliminations, before a winner is decided.
UK Top Sportsmen is a unique event in European drag racing because there are no class rules, only safety ones, meaning that any car can compete right up to professionally modified spec.
Usually before drag competitions, drivers get a number of chances to test the conditions before their race begins, but with UK Top Sportsmen you are limited to just one test drive.
Front Runner is available on Freeview ch91, FreeSat ch250, Talk Talk/BT ch91 and Sky ch468.