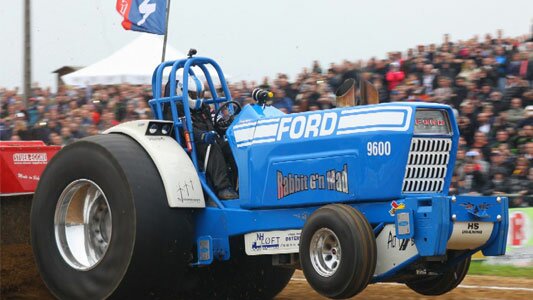 Catch tractor pulling highlights on free-to-air sports channel Front Runner
The best action from this year's Mitas Euro Cup series event in Denmark is currently being aired on UK sports channel Front Runner.
Watch the highlights on Eurocup Pulling tonight (Friday 16 December) at 9pm on Freeview and Talk Talk/BT. It will also be shown tomorrow (Saturday 17 December) at midday and on Sunday at 11am.
The show was filmed at the VALTRA Pulling Arena in Brande, Denmark, during the Mitas Euro Cup two-day event in July. It follows action from 2000 horse-power tractors in Super Stock, Light Modified and Heavy Modified classes.
Ryan Scarratt, of Front Runner, said: "Tractor pulling has been a popular sport with our Front Runner audience. If its popularity continues and grows further, we will be happy to continue running the series in the new year."
The Mitas Euro Cup featured 120 teams from different countries on the starting list, competing in five classes: Pro Stock, Super Stock, Mini Modified, Light Modified and Heavy Modified. Tractors with up to 10,000 horsepower competed.
Front Runner is available on Freeview ch91, FreeSat ch250, Talk Talk/BT ch91 and Sky ch468.
Freeview viewers can check if Front Runner is available in their region here. Alternatively phone Freeview direct on 0345 650 5050.
About Front Runner
Front Runner is the first and only free-to-air dedicated sports channel in the UK and leads the way in showcasing the best in action sports from across the globe. It offers action, lifestyle and documentaries from the worlds of skateboarding, motocross, snowboarding, surfing, mountain biking and now motorsports. Along with adrenaline-fuelled action, there's also boxing, professional fighting, poker, comedy and chat. Updates are available through the Front Runner's Facebook page and Twitter feed.