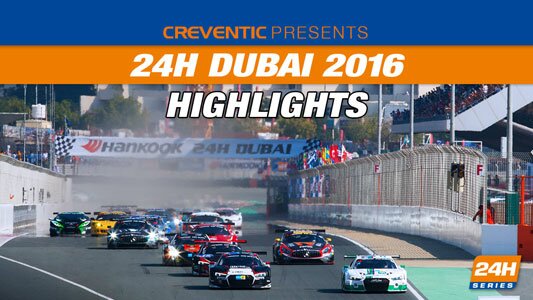 Highlights from 24H SERIES to be broadcast on free-to-air sports channel Front Runner
Motorsport will be broadcast on new sports channel Front Runner, which has announced it will air the 2016 highlights from CREVENTIC's endurance 24H SERIES powered by Hankook and 24H TCE SERIES powered by Hankook.
The show will be aired weekly on Sundays at 6pm – starting from Sunday December 11 2016 – on Freeview, FreeSat and Talk Talk/BT. It will be repeated on the same service providers, and also on Sky, at 6pm on Tuesdays.
The first instalment will feature highlights from the Hankook 24H DUBAI. Subsequent episodes follows racing around the world at the Hankook 12H ITALY-MUGELLO, Hankook 24H SILVERSTONE, Hankook 12H ZANDVOORT, Hankook 24H CIRCUIT PAUL RICARD, Hankook 24H BARCELONA and the Hankook 24H EPILOG BRNO.
The programme has been produced by CREVENTIC, the Dutch agency and promoter of the 24H SERIES powered by Hankook and 24H TCE SERIES powered by Hankook. As well as race highlights, the show features trackside interviews with the teams and well-known commenters in the space.
Ryan Scarratt, of Front Runner, said: "We're delighted to be offering motorsport on Front Runner, starting with providing a home for these highlights from the exciting world of endurance racing.
"Motorsport is an area we're looking to develop further because we believe it deserves more television air time. This is the first of many more exciting announcements for its fans."
Natasha Mark, from CREVENTIC, said: "In line with the increasing popularity of our series, the broadcast of our highlights on new sport channel Front Runner is another way to expand our worldwide audience. We are delighted with this new step.
"This season's races once again provided a lot of exciting entertainment and the highlight shows provide a great opportunity to enjoy all the action once again!"
Front Runner is available on Freeview ch91, FreeSat ch250, Talk Talk/BT ch91 and Sky ch468.
Freeview viewers can check if Front Runner is available in their region here.
Note to editors:-
About CREVENTIC
Dutch agency, CREVENTIC, is the promoter of the 24H SERIES powered by Hankook, the 24H TCE SERIES powered by Hankook and new in 2017: the 24H PROTO SERIES powered by Hankook. Founded by passionate amateur racers, CREVENTIC, in co-operation with the Dutch National Racing Team, organised the inaugural 24H DUBAI in 2006, a race that has quickly become established in international motorsport. Further events were added to CREVENTIC's portfolio over the years.
Front
Runner
is the first and only free-to-air dedicated sports channel in the UK and leads the way in showcasing the best in action sports from across the globe. It offers action, lifestyle and documentaries from the worlds of skateboarding, motocross, snowboarding, surfing, mountain biking and now ice hockey. Along with adrenaline-fuelled action, there's also boxing, professional fighting,
poker
, comedy and chat. Updates are available through the
Front
Runner
's
Facebook page
and
Twitter feed
.
Contact Louise Hepburn on +44 1553 818550 or for further information.