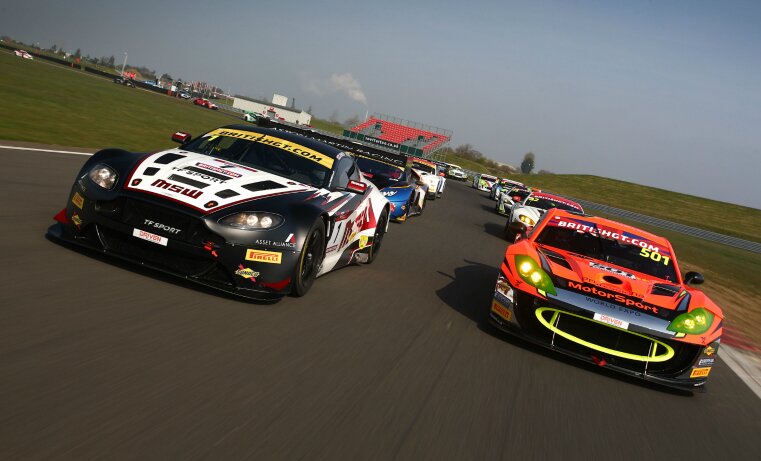 Coming up this April on Front Runner…
This month marks the start of the British GT Championship and MINI Challenge seasons – and we're showing all the action LIVE. This is no April Fool.
As well as loads more motorsport, there's new sports lined up and new episodes of Bike World, World Poker Tour, The Indoor League and Gillette World Sport.
Here's a taster of what's to come…
Live British GT Championship and Live Mini Challenge. NEW!
Monday April 17th and Sunday April 30th 10.45am-2pm and 3pm-5.15pm.
For the first time ever, the British GT Championship and Mini Challenge will be broadcast live from the race track. Fans will be able to watch racing this season from every UK-based track, and get to know the teams, drivers and the cars.
Front Runner's live motorsport coverage starts on Easter Monday from Oulton Park, in Cheshire. Then, at the very end of the month, we'll be showing the live action from Rockingham, Northamptonshire.
We're already feeling the anticipation.
World Poker Tour. MORE EPISODES!
Wednesdays, Thursdays, Fridays at 7.30pm on Freeview only. Repeated regularly.
Due to popular demand, we've managed to source more episodes of one of Front Runner's most enjoyed shows. World Poker Tour follows the action from the tables of premiere high-stakes poker tournaments.
These stars certainly know how to play and manage to keep their cool – even when there's over a hundred thousand dollars at stake. And you can certainly feel the tension around the table.
BTRDA Rally Championship. NEW!
Tuesday April 4th at 6.30pm, Thursday April 20th at 6.30pm. Repeated regularly.
Follow all the action throughout the 2017 BTRDA Clubmans Rallycross Championship.
The championship's Gold Star title is the most prestigious in UK club rallying and this national series travels to some of the most iconic forest rally stages.
Arm Wars. NEW!
Wednesdays 4.30-5.30pm. Repeated regularly.
Our professional fighting coverage has been a firm favourite since the channel launched last October. So we thought we'd also add professional arm wrestling to the schedule… because, well, why not?!
The Indoor League. MORE EPISODES!
Mondays, Wednesdays, Thursdays at 5.30pm. Sundays 8.30am-10am and 4pm-5.30pm.
Cricket legend Fred Trueman is back with a pipe in one hand and a pint in t'other to introduce us to more skilled participants competing in this traditional pub games tournament.
The series from the 1970s brought back so many memories of playing table skittles, shove ha'penny, bar billiards and Yorkshire darts at the village local. So we found more episodes and will be showing these throughout April.
Gillette World Sport 2017. SERIES CONTINUES!
Thursdays at 9.30pm on Freeview only.
Love a niche sport? Then there is no better programme to watch than Gillette World Sport. This feature-driven show delves into the idiosyncrasies of your favourite sports, taking a look at the techniques used by athletes, how they train, technology, the cutting edge science and much more.
With interviews from some of the world's biggest sporting stars, from motorsport, snowboarding, skiing, rugby, sailing and Olympic competitions. You name it, Gillette World Sport has it covered.
Bike World. SERIES CONTINUES!
Friday April 14th and Friday April 28th at 6.30pm.
Europe's most popular motorbike entertainment show is airing on Front Runner for all you two-wheeled fanatics. Join the team as they take you on a magical journey throughout Europe, bringing you exclusive stories ahead of anyone else.
This fortnightly show will bring you the latest news, showcase the latest and greatest bikes from beautiful locations and bring you in-depth features from the world of motorcycling. If it's on two wheels, it's on Bike World.
Mobil 1 the Grid. SERIES CONTINUES!
Friday April 7 at 5pm and Friday April 21 at 5pm.
This motoring magazine show offers behind the scenes access to race days, team news and insights into the technology used on your favourite cars from the world of motorsport.
Mobil 1 the Grid delivers the most comprehensive coverage of four-wheel racing on television. It has news and discussions about Formula 1, NASCAR, the Daytona 500 and much more.
With international features on some of motorsport's biggest stars, including one of Formula 1's most popular drivers, Red Bull Racing's Daniel Ricciardo, you will not want to miss a second of this pulsating action.
Motocross. NEW!
MX Nationals coverage on Wednesday April 19th at 8.30pm (Freeview only) and BSMA MX at 11pm. Repeated regularly.
We have new shows starting this month for motocross fans.
The MX Nationals follows the very best from the British motocross scene as they battle it out at venues across the country including Mildenhall. Meanwhile, the BSMA MX has the dirt track stars of tomorrow as they scramble around the UK looking for their big break in the world of motocross.
Follow listings for more information. Front Runner is available on Freeview ch91, FreeSat ch250, Talk Talk/BT ch91 and Sky ch468.