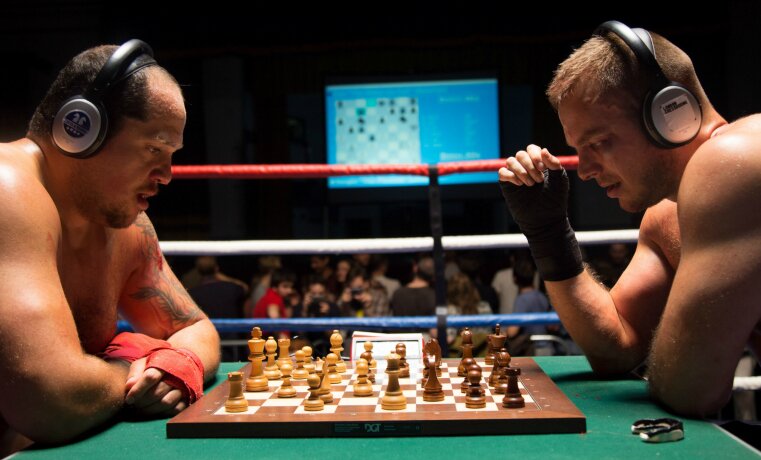 What's new on Front Runner this month?
Lots of brand new shows are coming to the UK's only free sports channel in March. There's so much to tell you about, so here's a run-down of what's on offer.
We have a huge variety of motorsport, including the current series of Mobil 1 the Grid, plus two weekends of live darts coverage from the Isle of Man.
Ever seen chessboxing? Now's your chance because we're going to be introducing the sport to Front Runner this month with a bout between two bankers held at the Royal Albert Hall.
That's just a flavour of what's to come, so here's all the new content arriving at Front Runner this month. Enjoy.
Mobil 1 the Grid. Fortnightly on Saturdays at 10am. Repeated Monday 6.30pm.
This popular motoring magazine show offers behind the scenes access to race days, team news and insights into the technology used on your favourite cars from the world of motorsport. Mobil 1 the Grid delivers the most comprehensive coverage of four-wheel racing on television. It has news and discussions about Formula 1, NASCAR, the Daytona 500 and much more.
With international features on some of motorsport's biggest stars, including one of Formula 1's most popular drivers, Red Bull Racing's Daniel Ricciardo, you will not want to miss a second of this pulsating action.
Gillette World Sport 2017. March 2nd at 9.30pm (not Sky). Repeated Saturdays at 5.30pm.
Love a niche sport? Then there is no better programme to watch than Gillette World Sport. This feature-driven show delves into the idiosyncrasies of your favourite sports, taking a look at the techniques used by athletes, how they train, technology, the cutting edge science and much more.
With interviews from some of the world's biggest sporting stars, from motorsport, snowboarding, skiing, rugby, sailing and Olympic competitions. You name it, Gillette World Sport has it covered.
International Chessboxing. Saturday March 4 at 6pm. Repeated throughout March.
This hybrid fighting sport combines two traditional British sports, boxing and chess, as competitors take rounds of chess mixed with rounds of boxing until a winner is declared either via knockout or checkmate.
An engaging "brains and brawn" combat sport that was invented by Dutch performing artist Iepe Rubingh, where contestants include former undefeated IBF World Champion Terry Marsh. Since its creation, the sport has grown rapidly in popularity within the UK as well as Germany, India and Russia.
Front Runner will show a match held at the Royal Albert Hall between bankers Bryan Woon and Sean Mooney.
Top upcoming fights include a politics special as UKIP MEP Jonathan Arnott will face off with Liberal Democrat activist Toby White in April.
P1 Superstock UK. Sundays at 8pm. Repeated throughout the week including Saturdays at 4pm.
If you're after the thrills and spills of the motorsport world then the P1 Superstock Championship is the sport for you. Join the worldwide phenomenon that is already being broadcast in more than 650 million homes globally.
This highlights programme will bring you the best action from Britain's premier powerboat racing series from venues throughout the beautiful English countryside such as Scarborough and Yorkshire.
The Superstock race courses are tight, fast and close to the shore, with the local crowd creating a terrific atmosphere. Events take place both in the UK and the United States, with three races held over the weekends lasting approximately 20 minutes each.
Pokerstars Isle of Man Festival of Darts. Weekend of March 11 (from 3pm) – March 12 (from 2pm).
The 32nd running of Pokerstars Isle of Man Festival of Darts will be the first sporting event ever broadcast live from the island. It is also one of the most anticipated and best attended darts events of the calendar year.
Known for its party atmosphere, over the last three decades fans have travelled from all over the country for this truly unique event.
Past winners have included stellar names such as Phil Taylor, Gary Anderson, Scott Waites and Dennis Harbour. With the winner set to net a cool £30,000 prize money, what is not to love about the Isle of Man festival?
New episodes of Bike World. Fortnightly on Mondays at 7pm. Repeated Saturdays at 9pm.
Europe's most popular motorbike entertainment show is coming to Front Runner for all you two wheeled fanatics. This fortnightly show will bring you the latest news, showcase the latest and greatest bikes from beautiful locations and bring you in-depth features from the world of motorcycling.
The team will transport you throughout Europe as they bring you exclusive stories ahead of anyone else. If it's on two wheels, it's on Bike World.
NZ Toyota 86 Championship and NZ Toyota Series. Wednesdays at 5pm and 6pm. Repeated Fridays 8pm and 9pm (Freeview).
The fourth season of the New Zealand Toyota 86 Championship looks set to be the tightest competition in its history as the country's leading one-make series has its strongest field of drivers yet.
Competitors race in identical Toyota 86 cars, something that a lot of motorsport fans actively encourage rather than one having the upper hand thanks to a faster car.
This intense championship will include some of motorsport's biggest names from New Zealand as racers will test their abilities in six rounds before a winner is declared.
Meanwhile the 2017 Toyota Racing Series will start with round one in Ruapuna, New Zealand and will see drivers compete in Toyota FT50 race cars in five races over five weekends.
Annual British Internationals Darts Championships. Weekend of March 25th (from 3pm) – 26th (from 2pm).
From the Cedar Court Hotel in Bradford, the annual British Internationals Championships will be broadcast live on Front Runner.
The event, which dates back to 1979, is a competition run under the advocacy of the British Darts Organisation. It is a team event that sees rival sporting nations England, Scotland and Wales compete against each other to determine which country is crowned the best in Britain.
Front Runner is available on Freeview ch91, FreeSat ch250, Talk Talk/BT ch91 and Sky ch468.