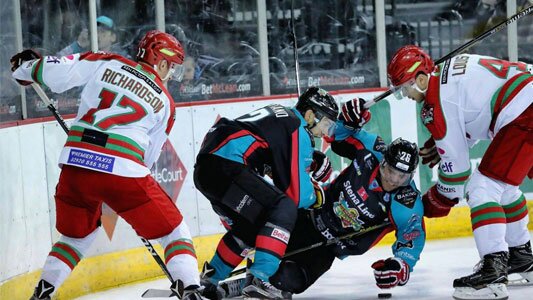 Ice hockey arrives at free sports channel Front Runner
The Elite
Ice
Hockey
League is delighted to announce a new weekly highlights show on free to air television, which launches on Thursday night.
FACING
OFF
will be available in 19 million homes across the UK and Northern Ireland on Freeview, FreeSat, Talk Talk/BT and Sky, on new sports channel Front Runner.
The one hour show will feature all 10 Elite League teams, with the best of the action from the matches across, England, Scotland, Wales and Northern Ireland. The programme will be shown at 6pm on Thursdays, 10pm on Fridays and 9am on Saturdays.
Elite League director Neil Black is delighted to have
ice
hockey
back on free-to-air television: "I think it is very important because we have been
off
the screens so far this season and we have been pretty invisible the last few years on free-to-air TV.
"Front Runner are new and enthusiastic and want to progress things themselves. I think it is good for us to be working with somebody, who is very keen on making this a much better product and working very hard on attracting new viewers to their channels."
Ryan Scarratt, of Front Runner, said: "
Ice
hockey
is a new sport for Front Runner and we're excited to be offering these action-packed games exclusively for free to our viewers.
"We feel that there are sports out there that deserve more television air time, and the Elite
Ice
Hockey
League is among them. These matches are certainly intense and nail-biting, so be sure to tune into
FACING
OFF
."
The programme will be made by respected production company Televideo, which has had a long relationship with
ice
hockey
having previously made shows for Sky Sports. Paul Scivill, Managing Director of Televideo said: "We are delighted to be working with the Elite League again and with a new channel in Front Runner.
"
Ice
hockey
is a great sport and we are looking forward to making a programme which will appeal to fans, both new and old."
Front Runner broadcasts on a number of platforms and is available on SKY ch468, Freesat ch250, Freeview ch91, Talk Talk/ BT ch91.
About Front Runner
Front Runner
is the first and only free-to-air dedicated sports channel in the UK and leads the way in showcasing the best in action sports from across the globe. It offers action, lifestyle and documentaries from the worlds of skateboarding, motocross, snowboarding, surfing, mountain biking and now
ice
hockey
. Along with adrenaline-fuelled action, there's also boxing, professional fighting, poker, comedy and chat.
About the Elite League
The Elite

Ice

Hockey

League
is the only professional sports league with teams in England, Scotland, Wales and Northern Ireland. It is the most watched UK indoor sport, with over 850000 fans taking in a live EIHL game last season.